Ahmed H, one of the Röszke 11, accused for "terrorism and other crimes" is kept in custody and total isolation since one year. As Ahmed's last court session was on the 23nd of September, solidarity demonstration took place in Budapest, Szeged and in Vienna, in front of the Hungarian embassy.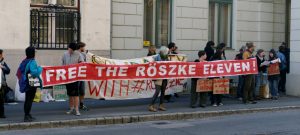 During the whole court hearing the judge was only reading the testemonies of the police who were allegedly injured during the so called riot. Ahmed's lawyer was even not present, only his deputy. The police blocked the court corridor so the majority of the people who wanted to monitor the trial was not allowed to enter the courtroom. All forms of communication with Ahmed were prevented.
Still, the people who gathered to demand the freedom of the accused managed to send their messages of solidarity via playing and singing songs of resistance, and showing signs behind the police blockade.
The police was constantly making pressure and threatening with starting misdeme anor procedures against the protesters. When the trial was finished people in solidairty were waiting for Ahmed to be carried out from the courtroom, but instead of it, he was locked into another room. As a sign of disobedience some people refused to leave the court building until they were evected by the police. The last person who left the building was a 73 years old lady who came to Szeged in order to protest.

The next court session will be on the 30th of November, when the first level sentence is expected to be read out. Let's organize and show the power of solidarity! Support the solidarity campaign where ever you are!
We should not forget about Yamen A., Farouk A., and Kamel J., the other 3 people from the Röszke 11, who got already sentenced and who are imprisoned in differnt prisons over Hungary.
More details about the trial and the international solidarity campaign: freetheroszke11.weebly.com contact: freetheroszke11@riseup.net
AGAINST THE OPPRESSION OF STATES! NO FENCES, NO PRISONS! FREEDOM FOR AHMED AND THE RöSZKE ELEVEN!