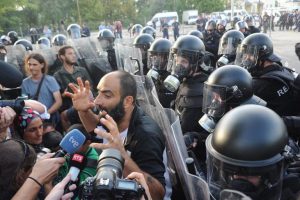 We are happy to tell you that 4 years after the brutal attack of the Hungarian state on the protests after the closing of the Roeszke border crossing and the arrests of the eleven people, the so called Roeszke 11, the last person Ahmed H. was finally able to leave the country to Cyprus, back to his family, on the 28th of September 2019.
After several years in prison and through the court instances, the Hungarian state ignored the European wide protests and convicted Ahmed in a fake trial of "terrorism" to prison for 5 years in the end in 2018. Since January 2019 he we was meant to be released from prison but had to stay in deportation detention as Cyprus didn`t want to let him return to his family there.
We wish Ahmed and his family all the best!
Thanks to all people supporting Ahmed and his family and the Roeszke 11 – solidarity will win! Lets fight injustice and the border regime!
Read the statement of Amnesty International:
https://www.amnesty.org/en/latest/news/2019/09/hungary-syrian-man-unjustly-jailed-finally-allowed-home-to-cyprus/