Heute, am 15. Dezember 2017, wurden die 9 Besetzer*innen der Besetzung Albatros zu 6 Monaten Haft auf 3 Jahre Bewährung verurteilt. Die verurteilten Besetzer*innen und ihre Unterstützer*innen haben angekündigt gegen das Urteil in Berufung zu gehen. Wir als "You can`t evict solidarity"-Kampagne werden sie dabei finanziell unterstützen.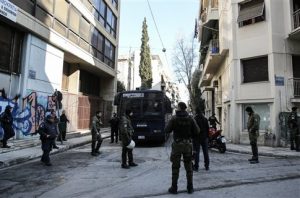 Die Geflüchteten-solidarische Besetzung "Albatros" war im Herbst 2016 nach der Räumung der besetzten Häuser "Orfanotrofeio", "Hurriya" und "Nikis" während dem No Border Camp in Thessaloniki im Juli 2016 entstanden. Sie wurde am 5. April 2017 geräumt. Dabei wurden im Haus 13 Menschen von der griechischen Polizei verhaftet, sowie 9 Unterstützer*innen vor dem Gebäude.
Im Folgenden dokumentieren wie ein Statement von Besetzer*innen des Albaross zum Prozess und dem Urteil:
On the 15th of December 2017 the prosecution of the people
 evicted from the squatted house Albatross in april this year continued.
 The owners of the house tried to sue for damages, allegedly caused by
 the squatters who fixed a lot of problems in the house which was
 abandoned for ten years before it was brought to live again, and even
 the judge had to acknowledge this was a ridiculous claim.

 However everybody who was arrested in the house was found guilty of
 squatting, except for one person from germany who hired a lawyer that
 spoke out against squatting in court with the only aim of getting an
innocent verdict for his client. This shows plainly how the
 justice system rewards people denying the violence and contradictions
we are confronted with every day and paying lip
 service to the state. They are charged with 6 month prison on three
years probation. Another person, that was not arrested during the
eviction but present during the arrest is charged with 7 months prison
on three years probation for resisting the police.

 Those of us without european passports, were other than in similar
cases also charged and
 found guilty for squatting. Not everybody has the chance to choose how
one wants to live and some were just trying to live a more dignified
life than in the camps around thessaloniki. It is an attempt to scare
those who are oppressed from acting and speaking out against their
marginalisation and oppression.

The clearly political trial and the populistic media campaign
surrounding it show once more that a system that knows only profit and
efficency is neither able nor willing to ensure the needs of people.
Property is the base of this system, establishing and manifesting the
divisions of rich and poor, european and non-european and therefore
deciding who has the right for a dignified life and who doesn't.

 While we are happy that the owners will not be able to extort money
 from us with the help of the legal system we will not accept this
 decision! With our lawyers we are confident to be able to reach an
 innocent verdict in an appeal.

 No Justice - No Peace!
No roof without people - no people without roof!


--------------------------------------------------------------------------------------------------------


Heute, den 15. Dezember 2017, wurde die Strafverfolgung der Menschen,
die im April diesen Jahres bei der Räumung des besetzten Hauses
"Albatross" festgenommen wurden, forgesetzt. Die Besitzer*innen des
Hauses versuchten die Angeklagten auf Sachschaden, der angeblich von den
Besetzer*innen am Haus begangen wurde, zu verklagen. Dieser Vorwurf ist
lächerlich, wie selbst der Richter anerkennen musste, da die
Besetzer*innen das Haus, das seit 10 Jahren leer stand, wieder in einen
bewohnbaren Zustand versetzten.

Bis auf eine Person aus Deutschland, die einen separaten Anwalt
beauftragt hatte, der sich vor Gericht mit dem einzigen Ziel, einen
Freispruch zu erlangen, gegen Hausbesetzungen aussprach, wurden alle
Angeklagten zu sechs Monaten Haft auf Bewährung verurteilt. Dies zeigt
offensichtlich, wie das Rechtssystem Menschen belohnt, die die Gewalt
und die Widersprüche mit denen wir jeden Tag konfrontiert sind
verleugnen und ein Lippenbekenntnis zum Staat ablegen. Eine andere
Person, die nicht bei der Räumung festgenommen wurde, aber bei der
Verhaftung anwesend war und wegen Widerstand gegen die Staatsgewalt
angeklagt war, wurde zu 7 Monaten Haft auf Bewährung verurteilt.

Auch diejenigen von uns ohne europaeischen Pass wurden entgegen
aehnlichen Faellen verurteilt. Nicht alle von uns haben die Möglichkeit
zu entscheiden wie sie leben möchten und manche suchten nur nach einer
würdevolleren Unterkunft als die Camps um Thessaloniki. Es ist ein
Versuch die Unterdrückten davon abzuhalten, aktiv und verbal gegen ihre
Unterdrückung und Marginalisierung vorzugehen.

Das ganz klar politische Gerichtsverfahren und die populistische
Medienkampagne, die sie begleitet hat, zeigen einmal mehr, dass ein
System, das nur Mehrwert und Leistung kennt weder fähig noch willens ist
die Grundbedürfnisse der Menschen zu decken. Eigentum ist die Grundlage
dieses Systems, das die Unterschiede zwischen arm und reicht, europäisch
und nicht-europäisch konstatiert und manifestiert und somit entscheidet
wer das Recht auf ein Leben in Würde hat und wer nicht.

Obwohl wir uns freuen, dass die Besitzer*innen es nicht schaffen werden,
uns mit der Hilfe des Rechtssystems Geld abzunötigen, werden wir das
Urteil nicht akzeptieren. Zusammen mit unseren Anwält*innen sind wir
zuversichtlich in einem Berufungsverfahren einen Freispruch erwirken zu
können.

No Justice - No Peace
No roof without people - no people without roof!

"