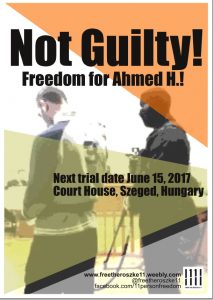 Not guilty! We demand Freedom for Ahmed!
The date for the trial against Ahmed at the second instance court is set for Thursday, 15th of June. In November 2016 Ahmed H. was sentenced to 10 years of prison for "terrorism" and "illegal border crossing" in the court of Szeged after a series of extremely biased trial hearings.
Ahmed's trial and the show-trials against the other Röszke 11, the police violence and the harsh policy changes are supposed to state an example and create an atmosphere of fear. They are part of the Hungarian state's increasing racist propaganda against all migrants, especially Muslims and part of the European repressive migration policies.
But freedom of movement is not a crime!
We demand Freedom for Ahmed!
The court adress is: Szegedi Ítélőtábla, Sóhordó utca 5, Szeged
…or organise a demonstration in front of your local Hungarian consulate or embassy!
More Information here: http://freetheroszke11.weebly.com/
Download the Flyer here: Flyer Freedom For Ahmed H.